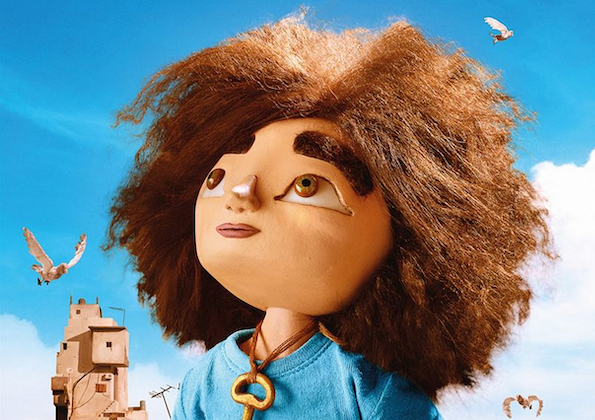 Wardi (The Tower)
Long métrage animé
Mats GRORUD
Résumé / Summary
Beyrouth, Liban, aujourd'hui.
Wardi, une jeune Palestinienne de onze ans, vit avec toute sa famille dans le camp de réfugiés où elle est née. Sidi, son arrière-grand-père adoré, fut l'un des premiers à s'y installer après avoir été chassé de son village en 1948. Le jour où Sidi lui confie la clé de son ancienne maison en Galilée, Wardi craint qu'il ait perdu l'espoir d'y retourner un jour.
Mais comment chaque membre de la famille peut-il aider à sa façon la jeune fille à renouer avec cet espoir ?
Beirut, Lebanon, Today.
Wardi, an eleven-year-old Palestinian girl, lives with her whole family in the refugee camp where she was born. Her beloved great-grandfather Sidi was one of the first people to settle in the camp after being chased from his home back in 1948. The day Sidi gives her the key to his old house back in Galilea, she fears he may have lost hope of someday going home. As she searches for Sidi's lost hope around the camp, she will collect her family's testimonies, from one generation to the next.
Auteur-Réalisateur / Writer-Director Mats GRORUD
Directeur Artistique / Artistic Director Rui TENREIRO
Durée / Running Time 77 minutes
Titre original/Original title Al Bourj
Coproduction Les Contes Modernes, Tenk.tv (Norvège), Cinenic (Suède), en coproduction avec Auvergne Rhône Alpes Cinéma (France) et Film I Vast (Suède)
Soutiens / Supports EURIMAGES, CNC, REGION GRAND EST, STRASBOURG EUROMETROPOLE, SACEM, NFI, SFI, CREATIVE EUROPE, VIKEN FILMSENTER, GÖTEBORG CITY, FRITT ORD, FOND FOR LYD OG BILDE, EUROPAFILM, FOLKETS BIO.
Distributeur et Vendeur International  / Distributor and International Sales Agent Jour2Fête
EN France, le film est disponible pour les projections institutionnelles par l'intermédiaire d'ADAVProjections : https://www.adavprojections.com/4DACTION/Web_Fiche/258943
Numéro ISAN: 0000-0004-1448-0000-B-0000-0000-4
Première Mondiale – Festival international du film d'animation d'Annecy 2018 – Sélection Officielle Hors Compétition
World Premiere – The Annecy International Animation Film Festival 2018 – Official Selection, Out of Competition
Bandes-annonces / Trailers: VOSTFR / VOSTENG / VF
Extraits / Excerpts: « Le passé » / « La clé » / « Wardi face à son histoire »
Fiche technique / Technical Sheet
Dossier de presse / Press Kit
Affiche / Poster
Revue de presse / Press review
Photos / Stills : 1 / 2 / 3 / 4 / 5 / 6 / 7 / Mats Grorud
Dossiers Nations Unies / United Nations files: élèves / students / professeurs / teachers
Dossier pédagogique / Pedagogical kit
6 pages pour les parents / 6 pages for parents
Sous-titres / Subtitles: 24 images/secondes AR-FR / AR-EN / AR-ES – 25 images/secondes AR-FR / AR-EN
+ films